Bosch Pet Friendly TriTech 12 m (40 ft) Range Motion Detector PIR
Model: ISC-BDL2-WP12G

Blue Line Gen2 TriTech Motion Detectors
Blue Line Gen2 TriTech Motion Detector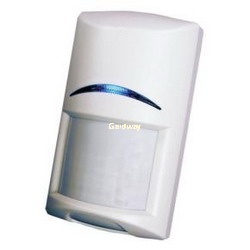 *Generation 2, the newest;
*45 kg [100 lb]
The Blue Line Gen2 TriTech Motion Detectors use a combination of passive infrared (PIR) and microwave detection technologies with advanced signal processing. The pet-friendly models generate alarms for human intruders without generating false alarms for pets. These small unobtrusive detectors are simple to install and do not need field adjustments.
Features:
1)Pet-friendly Selectable model available
optimize installation for pet (45 kg [100 lb]) and non-pet applications;
2)Dynamic Temperature Compensation
superior catch performance in any environment;
3)Microwave Noise Adaptive processing
reduce false alarms from repetitive sources;
4)Wall to Wall Coverage
superior catch performance.
More details,please view
http://resource.boschsecurity.com/documents/Data_sheet_enUS_2614480139.pdf
What include:
1)BOSCH Pet Friendly PIR Detector x 1;
2)User Manual.