8-Channel Wireless NVR KIT Vedio Surveillance Complete System with 8 PCS WIFI IP CCTV Cameras P2P onvif for Outdoor/indoor Waterproof 1.3MP Camera
Model: NVRKit03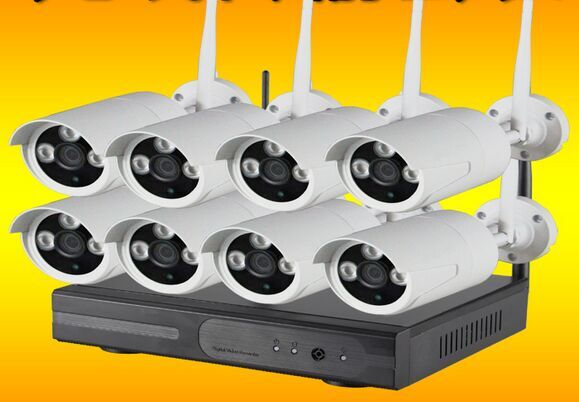 This CCTV Systems includes a 8-Channel Surveillance Security NVR and 8 pcs 1.3 megapixels indoor/outdoor Weatherproof Day & Night surveillance IP Cameras with Array 3 pcs LED IR.
Both of cameras and nvr are bulit in wifi module,perfect in wifi perfomamance.and all is strong wifi module,whithin obstacle it perfect reaches nearly distance transfer wifi through wall and can reach 300m without obstacle.it is amazing ,provide you a best wirelss nvr kit.anywhere and anytime view.
Dual core processor,allow multiple users online view at the same time. (Max 10 users)
No need cables, No need ip settings ,Plug and Play,providing a perfect surveillance solution for your home and business, very easy to build up.

Features:
1)don't need wired cables
you can also connect cameras with Cable,or wireless.
2)2TB HDD for about 25 days Motion-Detection recording
3)Plug & Play
4)Wireless NVR and Wireless Cameras
5)HD 960P,Night-vision
6)P2P,Mobile App Viewing
7)Two Antennas Design, Space Distance: 300M max
8)Linux System
9)Both VGA/HDMA Output, support 1920x1080
10)IP67 Waterproof Camera
Features of NVR:
1)Operating System: Embedded Linux OS
2)AV(audio/video) input
*Network video: 8 CH
*Network video input broadbank: 20Mbps
3)AV(audio/video) output: VGA and HDMI
1-CH,resolution:1024*768,1366*768,1440*900,1920*1080p
4)AV CODEC
*Video resolution: 1.3M/960P
*Video standards: PAL(625line,50f/s);NTSC(525line,60f/s)
*Image encode: H.264(High profile)
5)Video
*Dispaly quality: 960P
*Playback quality: 960P
*Encode capacity: Full real-time 4ch
6)Specification
Synch-playback: 8 CH
7)Video control
*Video/Capture Mode: Manual,time,motion,alarm
*Playback mode: Real time,Reutine,Event
*Backup: USB backup
7)HDD
*Type: 1*SATA interface
*Max Capacity: 4TB at most for each
8)External interface
*Network Interface: 1 adaptable RJ45 10M/100M,1WIFI interface
*USB Interface: 2 x USB 2.0
9)Network control
*Protocol: UPnP(paly&plug),SMTP(email service),PPPoE(dial-up),DHCP(Automatically obtain an IP address),etc
*Power: DC 12V 3A
10)Others
*Working Temperature: -10°C-55°C
*Woring Humidity: 10%-90%RH
*Consumption(excluding HDD)Others: ≤ 5W
*Size: 257(L)*210(W)*45(H)mm
*Wireless: 802.11a;2.4GHz
*Weight(excluing HDD): ≤1KG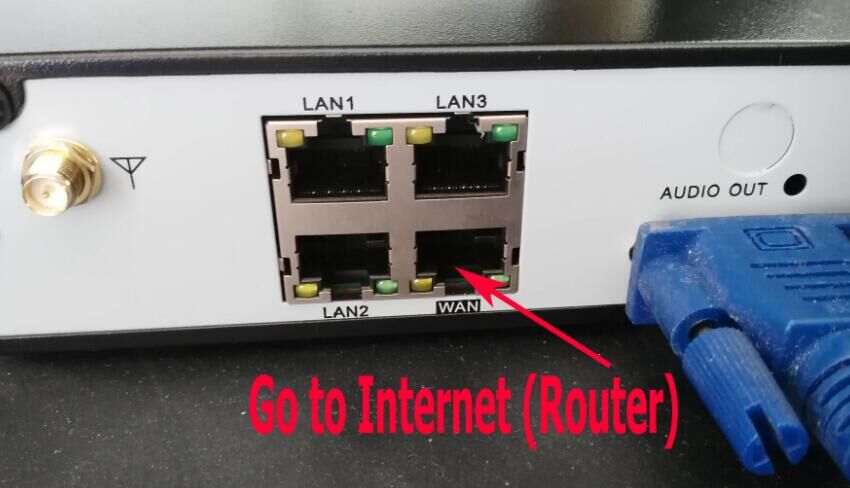 Features of camera:
1)Operating System: Embedded Linux
2)Image Sensor: 1/4'' Progressive Scan Sensor OV 9712 CMOS
3)TV System: NTSC/PAL
4)S/N Ratio: >42dB
5)Resolution: 1280x720 High Defination
6)Minimum Illumination:
Color:0.1 Lux,B/W: 0.01 Lux
8)Lens: 3.6mm
9)OSD: Date Time & Title
10)White Balance: Auto
11)Day & Night: Auto/Color/BW
12)3D-DNR: Auto
13)Mirror/Flip: On/Off
14)Privacy Masking: 4 Zone Selectable
15)Frame Specification:
*Three streaming at the same time
*H2.64 128x720@30pfs or below
*H2.64 640x480@30pfs or below
18)Anti-thunder Level: standard IEC61000-4-5
19)Material: Metal Shell
20)Weatherproof: IP67
21)Number Of IR Leds: 3pcs array leds
22)IR Distance: 10-20m
23)Power Input: DC12V1A
24)Consumption: ≤6W
25)Interface: RJ45/WIFI 802.11b/g/n
26)Working temperature/humidity: -10°C-50°C/30%-80%RH
27)Storage temperature/humidity: -20°C-60°C/20%-90%RH
28)Size: 205(L)x70(W)x55(H)mm
29)Weight: 500g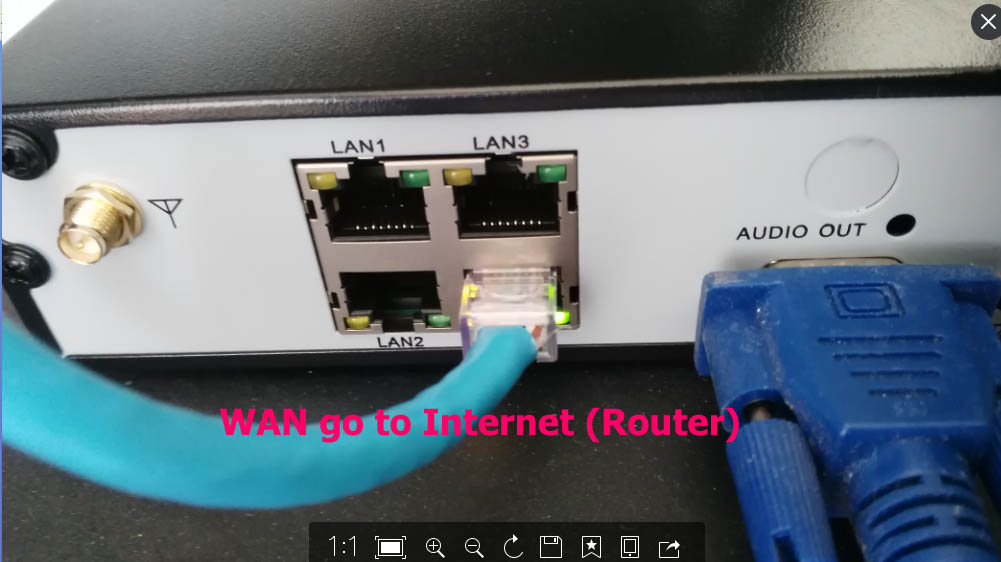 Package Includes:

1 x 8-Channel wirelss 960P NVR with two antennas
8 x 1.3 Megapixels Weatherproof outdoor WIFI IP Camera with 3pcs Array LEDs
1 x Power Supply 12V3A for NVR
8 x Power Adapter 12V1A for Cameras
1 x HHD 2TB
1 x 1m Network Cable for NVR
1 x USB mouse
NOTE:
1)All cameras are wireless (Wireless Video + DC12V Power 5521 Plug) and/or wired (RJ45 for both DC Power and Video).
2)NVR can support 8-Channel wireless, it also has 3-channel wired, so it can combine wireless (8-channel max) and wired (3-channel max).
Great Feedbacks from buyers