RJ45 extender coupler RJ45 8P8C connector for RJ45 Ethernet LAN Cable x 3 PCS

Model: RJ45extender

Make a network extension cord out of two 10Base-T Cat 5 network patch cables with an RJ-45 coupler. Both jacks accept one RJ-45 plug, allowing you to plug an Ethernet cable into both sides."

Connect two modular cables together to extend the overall application To link several line cords together, or extend modular cable runs, this modular coupler can help you make the right connection.
This inline coupler provides a female-to-female feed-through connection for easy cable hookup. Use for data/PBX applications.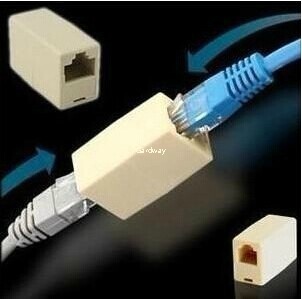 Features:
Type: 8P8C RJ-45
RJ45 crossover In-line Coupler provides a Female-to-Female feed-through connection
Enable connecting 2 LAN cables to become an extension
Compatible with all routers/hubs/network RJ45 connections
Size: 3.5cm*2.1cm*1.5cm

Package:
RJ45 Ethrnet Coupler Network Cable Join Extender x 3 PCS

SKU: ANZE2016249

Q: Does it come with a cable is well?
A: Not.