Wireless Video DoorPhone Intercom Complete Kit with 1 gate statin and 2 Monitors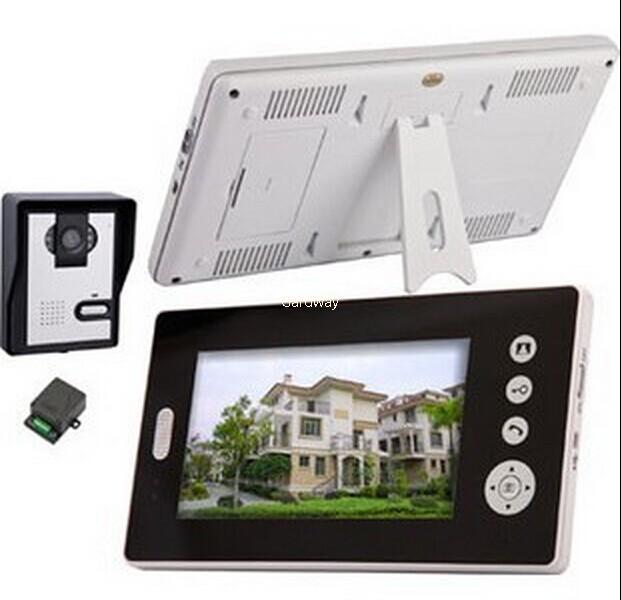 Wireless Video Intercom Doorbell 7 inch color screen with Remote Control / Unlock / Photo 2.4G 1:2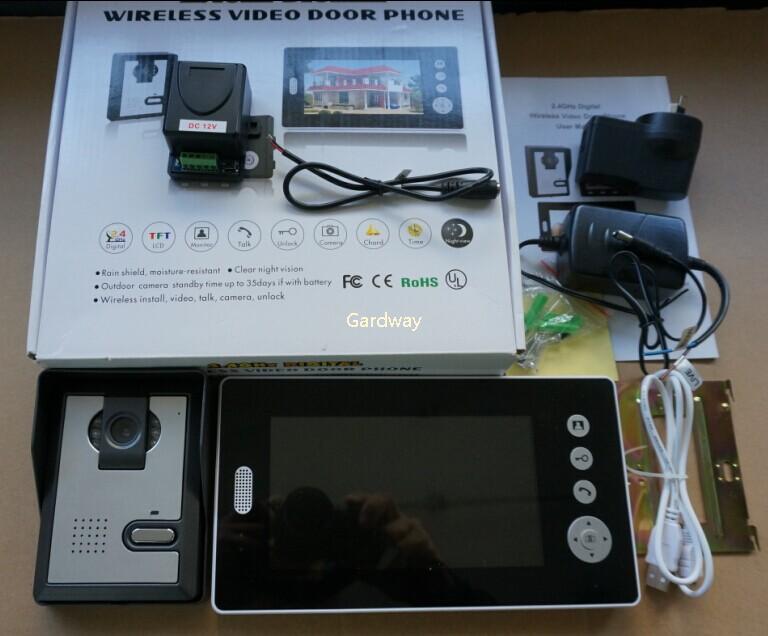 Model: GWJSW12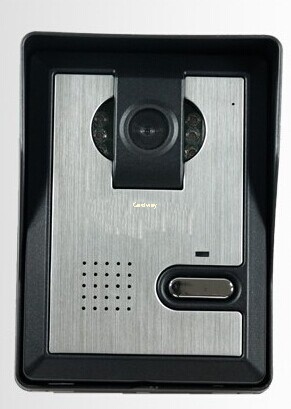 *One Wireless Gate Station
*Two Wireless Inside Door Video Monitors
*Wireless Unlock (RELAY Voltage-free Output: NO,NC,COM)
*Take photos automatically up to 100 PCS

This wireless video door phone has a 7 inch screen which can give you a better view of the visitor. It can also work with solar panels to fix the power connection problem at the door. In addition, it comes with wireless unlock module and remote which enable you to unlock the door remotely without the indoor units.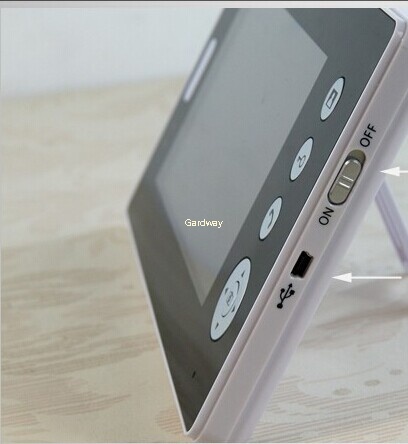 *2.4G Digital/*TFT LCD/*Monitor/*Talk/*Unlock/*Camer­a/*Chord/*Date & Time/*Night View


Features:
1)7 inch LCD screen for indoor unit
2)Wireless two way video intercom between outdoor and indoor unit
3)Take photos automatically when no answer, up to 100 photos
4)Come with wireless unlock remote (optional,exclude) to unlock the door
5)Support 1 outdoor unit to 3 indoor units
6)Rechargeable lithium battery (optional,exclude) for both indoor and outdoor units
7)Outdoor camera can work in power saving and monitoring modes
8)Support solar power panel (optional,exclude) for the outdoor camera
9)Waterproof Rain Protector Cover for outdoor gate station camera


Package:
1)Wireless 7" Door Video Monitor x 2;
2)Wireless Gate Station x 1;
3)Rain Protector Cover x 1;
4)1 x Wireless Receiver for unlocking;
5)Power Adapter for Monitor x 1;
6)Power Supply Unit for Gate Station x 1;
7)Rechargeable battery BL-5J 3.7V 1250MaH for Gate Station x 1
8)Parts & User Manual.